China RORO ship company | roro transporting shipping agent | international transport agent | international shipping
Roll-on ship ro-ro ship transport, also known as RORO ship (ROLL ON, ROLL OFF), is commonly known as the "open-up" ship. The goods carried are mainly vehicle-based goods, and the loading and unloading method is not vertical from the cargo hatch on the deck. Lifting and hoisting, but by driving the first, last or both sides of the ship and the springboard to the dock, driving the powered vehicle directly to the ship or using a trailer or forklift truck to carry the container or cargo together with wheels Chassis, a type of ship that is transported from the hold to the dock.
Advantages of Ro-Ro Ship Transportation Ro-Ro ship has the characteristics of convenience, speed, large transportation capacity, and flexible loading. It has the advantages of high unloading efficiency, safe cargo, no dependence on port lifting equipment and strong adaptability. All goods are basically packed in the cabin, and there are very few cases of loading on the deck (except multi-purpose vessels). In the actual international trade of vehicles and machinery, especially in the case of a letter of credit, a clean bill of lading can be issued. Negotiate on the bill. The loading period and the voyage time are accurate, which can effectively control the time in the transportation process.
Dingcheng Ro-Ro Ship has been operating in the Ro-Ro ship transportation industry for many years. It has maintained close cooperation with world-renowned Ro-Ro ship companies such as HOEGH, GLOVIS, EUUOR, EASTERN CARLINE, NYY, MOL, WWL, etc., and can provide customers with sufficient space and The approximate price of the offer.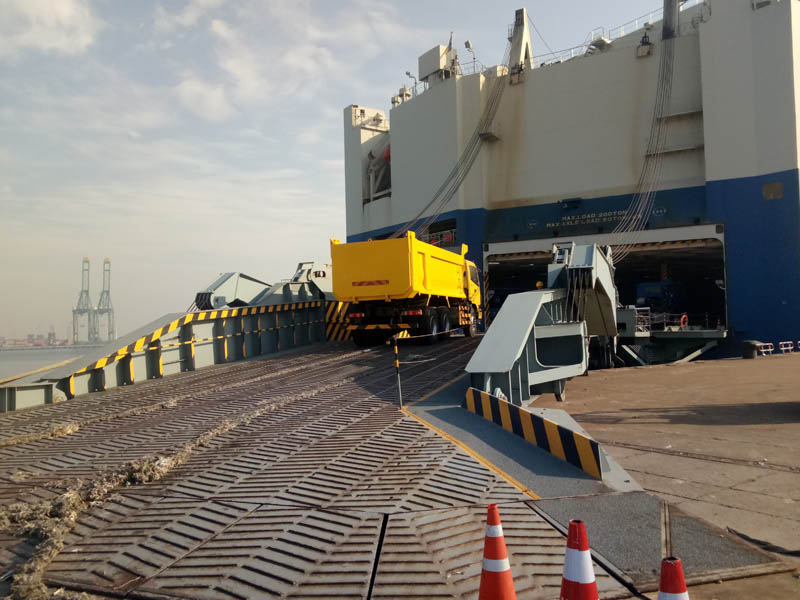 MAFI TRAILER:
Mafi is a new type of transportation. It appears to better transport large-scale equipment. Under the premise of high-quality transportation characteristics of the original ro-ro ship, it can better solve the overweight, long and long-term conditions of the cargo. The requirements are accurate and the voyage is guaranteed.
Mafi transport features:
1. Diversification of transportation: undertake super long and overweight construction machinery, mining equipment, wind power equipment, locomotives, heat containers, yachts, dredging vessels, etc.;
2. The schedule is accurate and the voyage is guaranteed;
3, high transportation quality: in all cabins, to prevent product corrosion, to minimize the loss rate;
4, high-end customization: for the establishment of professional tying reinforcement, transportation program for the higher value of goods, to ensure safety.